Concert - October 11 2013 Worcester, Massachusetts The Hanover Theatre 7:30 PM
Willyiam
A few images of Jackie's new dresses: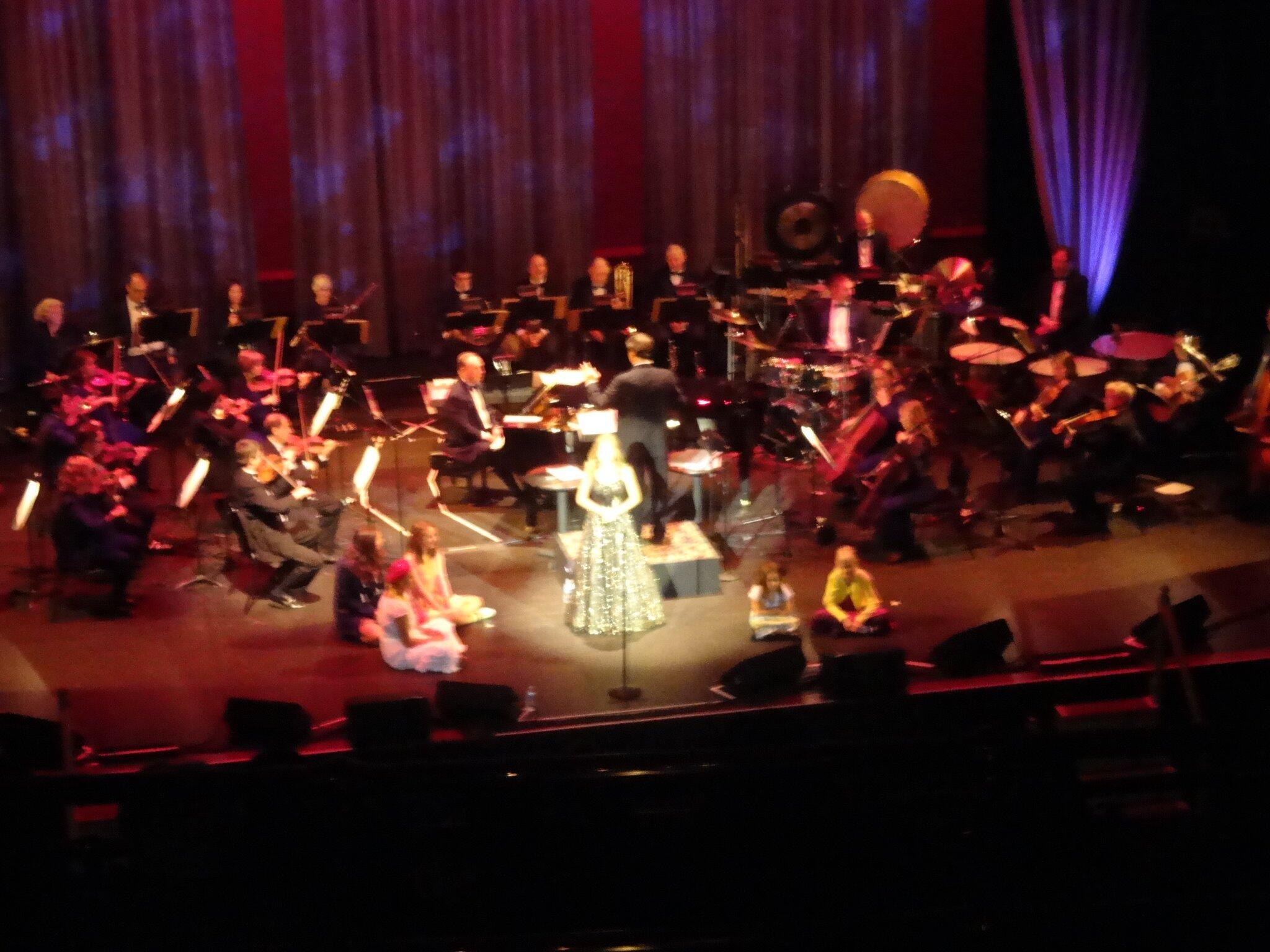 Order of songs:
Pure Imagination
When you wish upon a Star
Ombra Mai Fu
Pirates of the Caribbean (interlude)
To where you are
Reflection
Lords Prayer
Intermission
Lovers
My Heart will go on
Imaginer
Interlude Bohemian Rhapsody (it was awesome)
Se
Impossible Dream (dedicated to her mother, nice)
O Mio Babbino Caro (Curtain Call 1)
Music of the Night (Curtain Call 2)
The following are fan reviews copied and pasted from other Jackie Sites:
Worchester concert... an intermission update from an attending fan...
Posted by @Sempi Ternam
An early report from Worcester by phone, at intermission. The orchestra is a 28-piece orchestra, conducted by John Mario. The first set song list was an orchestral piece, Pure Imagination, Ombra Mai Fu, Reflection, and The Lord's Prayer (four songs). Then Jackie left the stage, followed by John Mario, the curtains closed, and the house lights came up for intermission. No comment from Jackie immediately prior to the intermission.
In the first set, there was no guest performer. Maybe that's why the set list was only four songs. Maybe there will be three short sets instead of the usual two sets - don't know if this will be the case. I guess we'll find out later tonight.
Jackie wore a new dress, dark blue with sparkles on the top, and straight - not frilly. She wore her hair down, in curls. ...Not sure if she wore shoes. Her on-stage demeanor was described as more "demure" - no giggling or twirling.
I asked if she dedicated Reflection to her mom, and the answer was that she made a brief statement about looking in the mirror, but she did not dedicate the song to her mom (if accurate, that's a first). Before OMF, she made a comment about the changing color of the trees.
Ticket sales for the concert were very strong. I don't have an estimate of percentage sold, but it's a big crowd.
Worchester ...end of intermission concert report
Posted by @Sempi Ternam
This is from a second report from a friend at Worcester, at the end of the concert. The second set was five songs, plus two encores.
Set list for second half - Lovers, My Heart Will Go On, Imaginer, [Bohemian Rhapsody by John Mario on piano], Se, The Impossible Dream.
Encores - O Mio Babbino Caro, followed by Music of the Night.
Jackie mostly used the hand-held mic (except for The Lord's Prayer and The Impossible Dream, when she had it in the mic stand.) She wore a pleated white dress covered by black/gold sequins with a black bodice
Something completely different - before singing MHWGO, Jackie (from the stage) found five girls in the audience and invited them to join her on stage. Three were teenaged (maybe 12-13), two were around 10 years old or younger. Jackie chatted with them and invited them to sit down on the stage while she sang (while apologizing for the dirty floor). With the girls sitting on the stage, Jackie sang MHWGO and Imaginer. Before starting Imaginer, she asked the girls what their thoughts were for making the world a better place. After singing Imaginer, she told them they could return to their seats, and she hugged the two younger girls as they left.
John Mario then played Bohemian Rhapsody with the orchestra (Jackie was off stage).
As the orchestra played the intro to Se, Jackie returned to the stage by walking through the orchestra from the rear of the stage.
After Se, Jackie said her thank you's, and then thanked her mom and dedicated the last song to her - The Impossible Dream.
Jackie left the stage and then returned to sing OMBC, then MOTN, then left the stage, followed by John Mario. The curtains closed and the lights came up. There were no curtain calls after the encores. I didn't get any info about standing O's.
One or two of the fans saw Jackie outside as she was arriving at the theater (prior to the concert). She saw them and gave them a wave. Lisa and Marc were with her, but not Jake.
edit-add: Posted by @Sempi Ternam
Late addition - after Jackie sang OMF, she sang To Where You Are.
edit-add: Posted by @Sempi Ternam
Just got a follow-up phone call. In the first set, Jackie also sang When You Wish Upon A Star, but he's not sure of the order. So there were actually six songs in the first set.
Another Fan Review:
Posted by: TheKinginblack from Amazon
Supporting cast:
- Hanover staff was excellent
- I thought the orchestra at the Wang was good. It was clear early on that this group was better. The opening piece(can't remember name, but very famous was great), Pirates of the Carribean (Best I have heard (extra points to the enthusiastic 1st violin)), Bohemian Rhapsody (Epic).
- Sound was great overall, the only issue I noticed was during "Lovers". In the opening to "Lovers" they played along with part of the recorded track. There seemed to be some timing issues and I think they were off by half a beat. However, this was cleared up by the time Jackie started.
Jackie:
- Jackie is growing up. Hair down and curled(she has a lot of hair on a relatively small head), She looked taller at first, but then I saw the heels(silver sparkles matching the dress). Her opening "dress"(I say dress because it was closer to a dress than a "gown") was a light blue with silver flakes and perfect for her age(not child, not adult). The second dress was black with gold flakes, very nice color contrast.
- With regards to the first dress, I think it needs to be brought up maybe and inch or two. A couple times in her back and forth pacing she held it up which looks like it was getting underfoot.
- I could tell things were going well when I had to work at not singing along. While I definitely caught myself humming a couple times, I was clearly mouthing the words throughout.
- Her power/support has gone up a notch, no sign of vacation rust in opening songs
- She seems timid with TWYA and pulled back the high notes for the first verse of the song(could also be breath timing issue) but when she fully supported them in the second verse they were great. I think she did the same thing in the Lewiston video(stronger second verse), this could be a comfort issue that will become easier as she feels better with the song. (TWYA is a very difficult song, with a sustained upper range; breath support is difficult)
- I thought she seemed tired after "Lovers"(MHWGO, Imaginer, Se) but she got a second wind and her final 3 were great.
- High points (OMF, Lord's, Lovers, ImpDre, OMBC, MOTN)
The "enhancements" appear to be her trying her hand at some showmanship. She "acted" some of her early songs and spoke more to the audience(lessons from watching Mr. Buble?). It sees she is going for a more fun/experience less formal/recital atmosphere. Also, she invited some of the girls onto the stage to sit around her(the two youngest got a hug to much awwwing). Some will see this as cornball, others will find it endearing. Any outreach to her public is a good thing and she will grow more comfortable with it and more receptive to fans with practice. I say try anything, throw stuff at a wall and see what sticks.
And Another:
Posted by: Be of Good Cheer from Amazon
Just a few more details to fill in on the above.
The opening was an instrumental I didn't recognize (but someone else said they've used before).
Jackie's motions and talking between songs were all more planned. The only spin was on that very word in "Pure Imagination", and with shoes on (sequined thin high heels, when one happened to see them), was clearly both careful and planned. Some other movements more obviously related to the music (for example, a fist during "march into h.ll for a heavenly cause" ("Impossible Dream")). The spoken segues were relevant to the songs (the remarks about trees, fall, and the shelter of a tree being relevant as OMF is about appreciation of a sheltering tree).
"To Where You Are" was accompanied by John Mario on piano.
The orchestra, although quite small, showed a bit of fire in Pirates of the Caribbean; and when the players weren't busy (such as during "To Where You Are"), they appeared to enjoy Jackie's singing - something that isn't always true with orchestras of unknown provenance.
Both dresses would I think reflect most suggestions - neither was frilly or two yards wide at the bottom - both were pleated, modest but not shapeless, and made Jackie look taller. I don't think the second was white, more like chocolate, sequined but not so heavily multicolored sequins as "The DRESS", and with a wide black...I don't know, not quite bodice, but a bit high to call a sash. I'd say that something like them would be suitable indefinitely within the portion of the genre that Jackie occupies.
Another person at a post-concert gathering commented on the improvements in her lower range (with no detriment to the high); I thought she needed less breaths in non-ideal places. Her energy and enthusiasm were as high as ever, but more focused; and she seemed to me more emotionally interpretive on understanding rather than instinct alone.
There was a bit of use of lighting (background color and so on), but supportive rather than aggressive.
The only sign of tiring might have been when she glared (would have peeled paint!) at the mic stand before OMBC, deciding instead to hold the mic.
As I recall, WYWUAS was after Pure Imagination.
So...no new material, but maybe more towards DWM selections than SFTSS (and of the SFTSS songs, I think most would agree that Se and MOTN are both among the better ones on there). Mention of the upcoming CD ("later this year", although bets right now are that was a mistake, more likely later NEXT year) but no previews. No guest (John Mario doing double duty on the piano helps make up for that - he's good, although they may have to retune after he plays Boheman Rhapsody, 'cause he's only gentle when necessary). No guest, and a smaller orchestra probably cuts costs a bit, but with everything a little tighter, the biggest loss of impact is the lack of someone she could sing a duet with (Jumaane, although very good, more provided variety and relief; singing with a instrumental soloist isn't the same as a duet), other than that, the presumed lower costs aren't at all detrimental (note: PROVIDED that a small orchestra is good, and not a one-time pickup that haven't much worked together before).
So, rearranging the selections, bringing back one oldie but goodie (To Where You Are goes all the way back to PTAD), more mature presentation and appearance, and if there's some economizing, it doesn't detract. Seems to me a responsible holding pattern if they wish to keep mum about what's on the upcoming CD until it's nearer or released. Jackie's voice seems to keep improving, a bit more sophisticated and in control, but not losing any of the connection to the music.
And Another:
spudchucker from new JEFC
Excellent show! Without getting too into it (it is 1 am..) I would say Jackie was strong, but perhaps a bit tight for the first set, but she was wide open and phenomenal (even by her standards) on the second set. Imaginer, MHWGO and OMBC were about as strong as I've ever heard from her. I think this actually had to do with the order the songs were sung in- she didn't sing any of the songs that always get standing O's to start the night out, and as a result the crowd, while definitely appreciative, didn't have that overwhelming reaction to start the night like in Lewiston when she opened with Lovers (which is a guaranteed standing O.) The first standing ovation she got was from the Lord's Prayer right before intermission, and that is right around the time when she really opened up and got into it IMO.
I think this concert was an excellent demonstration of just how much Jackie feeds off of the crowd, and management might want to consider starting out with a hard-hitting piece like Lovers to start the whole show, because it gets the crowd juiced-up right from the start, and she sings better for it.
Oh, and I heard from a little birdie that youtube should have a lot of sound and potentially some video footage in the near future.. The guy next to me even recorded most of the Lord's Prayer with his phone, so who knows.
And Another:
geb2 from new JEFC
I like to wait a little bit before putting down my thoughts and impressions after attending a Jackie concert, especially given that the 11th was my birthday. So here goes. Warning. I can be, actually am, verbose.
There was a bigger group of people at the pre-concert gathering at the Shangri-La restaurant, a 5 min walk up the street from the Hanover Theater, than originally planned, a wonderful surprise. Naturally I and others (including Debra Crosby who arrived only in time with Len to go directly to the Hanover) got stuck in traffic jams driving from the Boston area out west to Worcester, so I was naturally fashionably late an hour for my own organized gathering.
A buzz of excitement and anticipation for Jackie's first concert in 6 or so months seemed to be permeating the air. PJ handed out copies of the Jackie Proclamation from the Baltimore concert (thank you!), and people ordered some Chinese food (which was pretty decent), drinks, and made merry while waiting for the time until heading off to the Hanover Theater. It was great to renew old acquaintances including Kent, Steve, Wendy, Joe, Jim, Andre and others. Wonderful meeting new friends Paul, Rich, and another George, among others.
Walked to the Hanover with Wendy and Joe, arriving a few minutes before concert time. What struck me initially was the somewhat narrow stage with 2 big stacks of speakers, two small stairwells onto the stage directly in front of the right and left center orchestra aisles, and a very tall maroon curtain, maybe going up 40 or 50 feet to the ceiling. I could tell that the acoustics were excellent as I could hear almost no echoing sounds as the speakers blared. Looking back I could see that the orchestra seats gently rose as one walked toward the back of the theater providing good viewing from just about any seat. The balcony was set rather high, maybe beginning 30 feet above the floor of the theater and rising back upwards, but not at too steep a gradient. They have done a wonderful job restoring the old bird.
The house lights were dimmed and the curtain opens to the concert master coming on stage, soon followed by John Mario Di Costanzo, Jackie's most frequent conductor. The maestro raises his baton and the concert begins. The opening orchestral piece was excellent. A fitting warm-up to what was to come next. However, someone needs to let me know what it is called, for I know not.
Finally what everyone has been anticipating: Jackie enters stage left in what I call a stunning light blue gown. Her locks are flowing down past her shoulders. She has grown into a beautiful young lady, albeit still 13, a budding teenager. Still slender as a rail, Jackie has grown taller, significantly. She looks to be wearing real high heels rather than kitten heels and gracefully traverses the stage while singing, although one does notice an ever so slight tug at her gown to prevent her heels tangling in the fabric.
And then something new. Jackie speaks to us, the audience saying that she will be singing some of her favorite songs from her albums "Dream With Me" and "Songs From the Silver Screen".
She then talks about one's imagination and then Jackie starts singing "Pure Imagination". And what tones are coming from her. Her lower range is now strong, really strong. The tonal quality almost sounds contralto. And she still has gorgeous mid and upper ranges although distinctly different than when she was 10, as one should expect given her physical growth, especially in her vocal cords, larynx, throat and sinuses in her head. Her vibrato? What can one say other than beautiful. The perfect accent.
When Jackie finishes "Pure Imagination" to a deserved round of applause, something unusual happens. She again speaks to the audience. Yes, young in projection, but mature in nature. No giggly, wiggly child-like embarrassment. She is beginning her transition from little girl to professional performer having a conversation, an interaction, with the audience. It is still a little rough around the edges, but a welcome development.
Jackie leads us with a subtle introduction to "When You Wish Upon A Star" to follow your dreams and they may come true. And then she sings, as she can only do, her version of this classic song that Disney used a cricket, by Jiminy (i.e., Cliff Edwards), to make into Disney's representative song (side note: the song won the Oscar in 1940 for "Best Original Song").
Then surprise, surprise, Jackie continues her conversation with the audience. Referring to trees and, I believe, shade. For those who do not know, "Ombra Mai Fu" ("Never was a shade") is about a plane tree and how lovely was its shade. It is sung by Xerxes I of Persia as the opening aria for George Frideric Handel's 1738 opera "Serse" which was a commercial failure, playing only 5 performances in London after its premiere. Interestingly the aria was resurrected in the 19th century and now is one of Handel's best known pieces. Strange how things work out over time. Anyway, I digress.
I always am concerned at that first note, almost alone and naked. Miss it and disaster follows. Jackie nails it. And what follows is a somewhat different, yet the same, singing of the aria. The maturing of her voice is showing. And what appears to be some new technique. Namely, decided use of her diaphragm to support the notes. Wow. Looks like we have been taking lessons? Maybe those keeks of Jackie practicing with John Mario was giving more than just a hint of her singing? Having studied voice myself for 2 years in high school (required to take it when one auditioned and got accepted into our 60 singer choir which has even played at a soon to be new Jackie venue, Carnegie Hall). I remember our voice teacher Mrs. Rosa coming up to students who were not using their diaphragms and pushing up on their person while saying "support, support." Happened to me more than once. Well, digressing again. Jackie just does justice to this aria, and still only 13. For those who missed it, Jackie's live NPR singing of "Ombra Mai Fu" where she blew everyone away:
Jackie 2011 NPR live singing "Ombra Mai Fu"
Now, we have another change. Jackie walked off the stage and the orchestra plays "Pirates of the Caribbean" as an interlude. They were great.
Then we hear the start of "To Where You Are" which happened to be sung at Jackie's last concert in Lewiston, NY. This song also was on Jackie first album "Prelude to a Dream" and is a cover of the song first song by Josh Groban on his 2001 debut album. And, lo and behold, another change. Jackie now enters the stage from center stage behind the orchestra, walking past the piano, strings and maestro John Mario to the front of the stage. As usual, a spot-on rendition. I have not heard any weakness in Jackie's voice tonight, and it was so throughout including her last encore.
Next up we have "Reflection" from Disney's "Mulan" 1998 movie. This song was Christina Aguilera's breakout single, which occurred 7 years after she first started to perform. Christina was picked to sing this G major key song because she supposedly was the only singer that they auditioned who could sing the lyrics "Look at me, you may think you see who I really am, but you'll never know me" and go from a low-note of G3 to the high-note of Eb5 in a moderately slow tempo of 92 beats per minute without sounding like garbage. Well, I may be opinionated here, but Jackie makes Christine seem like a pauper singing that lyric, especially now that Jackie's lower range has gotten even stronger.
Interestingly, continuing with what Jackie hinted at in a tweet that her concert format was changed, Jackie did not dedicate this song to her mother, as she had always done in the past. We learned later why.
I have always loved the way Jackie sings this song. And she, of course, does not disappoint. Never would happen on this day, my birthday.
It then dawned on me that something else was different when Jackie was singing. She was much more expressive and trying to squeeze out every ounce of emotion and place it into her voice and out into the audience. She also was making a concerted effort to "roam" the stage side-to-side, more so than in the past. I think all these changes caught some people by surprise, some were subtle, some more brazen. They had remembered what they had seen before, and needed some time to adjust. By the end of the last song of the first half of the concert, adjustment completed.
When David Foster introduced Jackie singing this next song, he said that this was one of the most beautifully constructed melodies in the history of music. Whether David exaggerated or not, Jackie sings "The Lord's Prayer" almost beyond verbal description. And boy did she nail it. So strong. So pleasing to the ears to hear. So incredible. And her first big standing ovation of the night. She was back in the groove.
Intermission was good. Needed a drink. And got a big birthday hug from Debra Crosby. Gulped down the drink as the house lights flashed, getting to my seat as conductor John Mario reappeared. Again, I am not sure what was played as a warm-up, but it was wonderful.
Next we hear the beginnings of "Lovers" and Jackie comes out wearing a new spectacular gown. Black bodice with what looks like thin blackish/grayish material over a lighter under layer. Lots of sequins or something similar to give that sparkly look. Perfect with her long blond locks. Again Jackie is in high heels. During the second half of the concert Jackie had a smidgeon of trouble gliding over the stage, looking to almost trip a tiny, tiny bit. But nothing of much significance.
"House of the Flying Daggers" is one of my favorite movies. It is both a love story and a subtle martial arts film. It was nominated for an Academy Award for Best Cinematography in 2004. Although it did not win, it is stunning in its beauty. Roger Ebert gave it 4 stars and said that "the film is so good to look at and listen to that, as with some operas, the story is almost beside the point, serving primarily to get us from one spectacular scene to another."
The song "Lovers" was sung by Kathleen Battle. But Jackie's version is spectacular. The production done on the "Dream With Me in Concert" music video is so, so good. And Jackie in Worcester was easily as tremendous. Her lower tones are buttery. Her expressions are more intense. Loved it.
Now another twist. Hopefully not too many people have been made into a pretzel with all the changes, all for the good, in my opinion. As noted earlier, somewhat rough around the edges, but will smooth out over time.
Jackie wants to invite some kids onto the stage! She is having a little trouble seeing out into the audience as the spot light is partially blinding her. People are yelling. One couple says its their anniversary. Jackie says congratulations. Some girl yells from the balcony and Jackie wants to pick her before she realizes where the girl is located. Jackie finally chooses 2 young girls from her left (my right) and 3 girls who look to be close to Jackie's age from her right (my left). They come onto the stage. Since this is so new (probably the first time ever in public) they are a few little hiccups in Jackie trying to explain what will happen. Finally Jackie says she will be singing a song for them and asks them to sit down on the stage, excusing for the dirtiness of the stage. As a side note, in the future it may be a good idea to have some small stools or something else for the kids to sit on because of a dirty stage. One of the girls had a white outfit on and a dirty stage is not such a hot thing to sit on when in white.
Jackie then sings "My Heart Will Go On", the theme from the movie "Titanic" and Celine Dion's (who I believe is a fav singer of Jackie's) biggest hit. Interestingly, at first director James Cameron did not want a song, and it took a clever move by James Horner to get him to listen to the song and get him to say OK. Also, Celine when she first heard the song said no way hosay, and it took her husband and manager to convince her to sing on the demo that was played for James Cameron. The rest is history, as they say, the 8th highest worldwide selling single ever.
Well, Jackie does justice to this song with 5 lucky young girls getting an up close and personal performance.
Then, an additional surprise, and a funny incident. Jackie asks each girl what one thing they would like to see happen to make the world better. The first girl Jackie asked draws a blank and just tries and tries but nothing comes out. Jackie was not fazed with this curveball and just moved on to the other girls. One girl said she would like to see war go away. Jackie said she liked that answer. The one improvement I would suggest is that when the answer is provided, Jackie should restate it into the microphone and then make her comments. One or two of the answers and her responses were almost unintelligible, and I was in the 4th row fairly close to the speakers on the stage. Of course this is correctable, and I am sure will be improved upon as Jackie gets used to doing it.
Jackie then sang "Imaginer" with the kids still on the stage. This song was originally called "Broken Vow" and sung in English by Laura Fabian on her first English album in 2000. The song was about a sad love. However, for Jackie, the song was re-written in both theme and into French. The French version describes a dream of a peaceful world. Given the theme of "Imaginer" it was a clever use of a "right" question to get a desired answer that was pertinent for the song. Smart.
Notwithstanding, "Imaginer" is a favorite of mine and naturally I was overjoyed to hear it sung live, by Jackie, on my birthday.
After the song, the kids went back to their seats, and Jackie leaves the stage. Now, the maestro John Mario gets to show off at the piano doing the British rock bank Queen song "Bohemian Rhapsody" as another interlude. To say that it was not awesome would not be fair. A thunderous applause follows.
Then the music for "Se' begins and Jackie enters stage center behind the orchestra again. Another oen of my favorites, Jackie soars with this song. She seems to pick it up a few notches toward the end of her concerts. Saves the best for last. I am amazed at how her lower range is now so strong. It would be interesting to hear a song targeted in that range of her voice. It probably would be mind bending.
Now we find out why "Reflection" was not dedicated to her mom. A new song has that honor. And it is "The Impossible Dream" from the 1965 Broadway musical "Man of La Mancha". After briefly relating to us how her mother has help Jackie to realize her dream, Jackie really opened the emotional spigot up while singing this song.
While listening, I was imagining Jackie singing this song on Broadway. I know that Jackie's dad has mentioned in the past that they had offers for Jackie to sing on Broadway, but the people wanted Jackie to change her singing style. Rightly so, the answer was no. Having seen a few Broadway shows in my life (afterall, I was born in Manhattan although grew-up on Long Island and in the Catskills, and I like theater and shows, and what better place to see a show than on Broadway? I live in Boston now, but Broadway is Broadway). Man, Jackie is pretty close to now singing "The Impossible Dream" where it would fit right on Broadway. Pretty close. I wonder if it has to do with her lower range becoming so much stronger? Anyway, Jackie got the deserved standing O.
Of course, even though this was the "last" song, we were treated to two encores, "O Mio Babbino Caro" and "Music of the Night".
I can only say that I do not believe I have heard her sing both better. I really do think that her strong lower range fortified singing these songs even better, if that had been even possible.


Last edited by Willyiam on Sun Oct 13, 2013 1:04 pm; edited 5 times in total
Permissions in this forum:
You cannot reply to topics in this forum